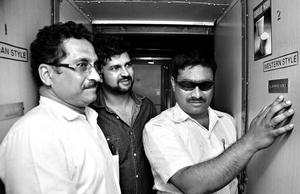 The Mysuru-Varanasi Express will become the country's first Braille-embedded train. The bi-weekly express (Train No. 16229/16230), which chugs out on Tuesday, will leave Mysuru for Varanasi on Tuesdays and Thursdays.
It has been provided with metallic Braille signage indicating berth numbers, location of alarm chains, toilets, and emergency windows. There are also instructions on how to operate the emergency exit windows. The initiative has been financed by Mysuru MP Pratap Simha from the MPLAD fund.
Though the Puri-Delhi Purushottam Express was the first train in the country to have a Braille-embedded coach, the Mysuru-Varanasi Express will be the first in the country where all reserved coaches have been embedded with Braille signage, said Rajkumar Lal, Divisional Railway Manager, Mysuru Division, South Western Railway.
Braille signage has been introduced on one rake of the express and it will soon be introduced in the second rake as well. The Chamundi Express and the Mysuru-Talguppa Express are the other two trains that will be provided with Braille displays after this, Mr. Lal said. "The plan is to extend the facility to all reserved coaches of long-distance trains in a phased manner," he added. Braille signage indicating the coach number is next on the agenda.
Netravati, a visually-impaired person, welcomed the initiative and said that it will help them identify the seats or berths without seeking help from others. "We will be more independent as sometimes, people do not respond to us as they tend to be in a hurry to locate their berths," she said.