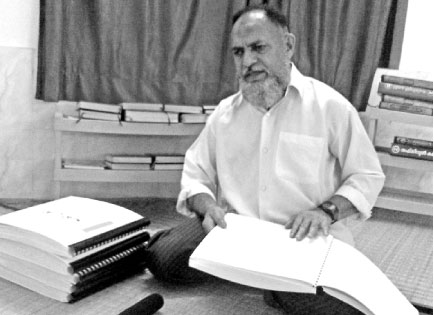 Ali Bapputty of Thottumugham cannot hide his joy. With all the six volumes of the Quran in Braille in his possession, he cannot stop thanking those who gifted them to him. Though Ali lost his sight at 31, his grit and determination and firm faith in Allah saw him through.
Even at the age of 60, he does not depend much on anyone. After waking up early and completing his chores he heads to the Masjidul Furqan, about 100 yards away from home with a hand staff to attend al Fajr (the early morning prayer) every day.
He has been attending al Fajr since his school days but it has become a routine ever since he lost his sight.
After completing the 'rakah' he would memorise the holy Quran, not the normal one but the Braille copy. He sits in a silent spot and runs his fingers over the raised dots.
As the mosque has only two volumes of the braille, with the dots fast wearing off, he prayed to Allah for a new one with all the six volumes to help him imbibe the the true spirit of the holy book. Ali knew the full set was available in Saudi Arabia but he could not figure out how he could lay his hands on them.
One day Shanavaz Pallath from Kalamassery who happened to pray at the Masjidul Furqan during last Ramzan noticed Ali groping with the hand staff, and carefully making his way among others.
Shanavaz talked to Ali after the prayer and came to know of his wish. After almost one year of waiting, on the first Friday after Ramzan this year, Ali got a brand new Braille in six volumes.
Ali believes his prayer has been heard by Allah. Ever since he lost his sight his only wish was to read the Quran in Arabic.
When the Masjidul Furqan Zakath Cell handed over the Braille volumes of the Quran in Arabic, Ali thanked the Zakath Cell, Shanavaz, who had been the intermediary, and Norma Hashim of Malayasia, who sent the Braille copy to him.
With tears in his eye he said how difficult it was for Shanavaz to convince Norma Hashim about his desire. Shanavaz, a Gulf returnee contacted a few persons in Saudi Arabia but he could not get the Braille version at the King Fahd Quran Printing Press in Madinah as the first one million copies had been booked by various organisations worldwide, and it would take another year for the next lot to come out, Shanavaz said.
Finally Norma Hashim from Malayasia who heard about it came to his help. Shanavaz said, "I got Norma's details on the internet. Norma is a human rights activist as well as an author, her latest book being The Prisoners' Diary: Palestinian Voices from the Israeli Gulag.
Soon after Ali lost his sight, he stayed at his ancestral home in Fort Kochi for almost four years. He learnt to move around without injuring himself which was tough.
He decided to join the vocational school and lost no time to go to join the school run by the Kerala Federation of the Blind in Kozhikode.
Ali learnt Braille in English and Malayalam. To learn Arabic in Braille, he joined Rahmania Vocational School with the help of a friend. There he learned braille and taught for nearly eight years. Of the 800 of his students, most are teachers in different parts of Kerala.
He never thought that a bout of severe typhoid would rob him of his sight when he was doing pre-degree. He left studies due to financial problems and went to Bangalore and worked at a three-star hotel as waiter but while settling the cash in the evening with the manager he found out that he would often be short of money and realised that he had made mistakes while settling the balance with clients. It was a shock when he came to know that he was losing his sight. Doctors were also helpless as his nervous system was affected by the typhoid.
Ali today lives in a small rented house in Thottumugam with his family.
Whenever time permits he listens to the old songs of Muhammed Rafi, including Duniya ke Rakhwale which he says he has heard about 1000 times. He looks up and thanks Allah for everything.